Click image for a larger labeled Adobe Acrobat (.pdf) view in a new window
Click image for a larger labeled Adobe Acrobat (.pdf) view in a new window
Click image for a larger labeled Adobe Acrobat (.pdf) view in a new window
Finding Space for Operating Fun
N scale switching layout captures prototype in tight quarters
I tell people all the time that there is room for some kind of a layout in almost every living situation. That belief was challenged with a very tight space in an apartment. The only space for a layout was a series of narrow shelves above and around other furniture and fixtures in the room. This is one of the few times when the benchwork really would determine the layout, so a shelf layout was a given.
At the same time, the layout owner wanted to indulge in one of his favorite prototypes, the Sacramento Northern (SN). Would it be possible, he asked, to incorporate a real-life location into an N scale layout on these shelves? Like the Yuba City Yard, maybe?
Yikes! Mutual acquaintance Keith Gillette had done some excellent research on the area for his own layout and a clinic, so we had the TIP (Track Identification Program) map prepared by SN-parent Western Pacific. This was a good-sized industry yard serving a number of nearby customers. The original TIP map copy is a bit fuzzy, but one can get a sense of the trackage by clicking on the image at right for the full TIP map.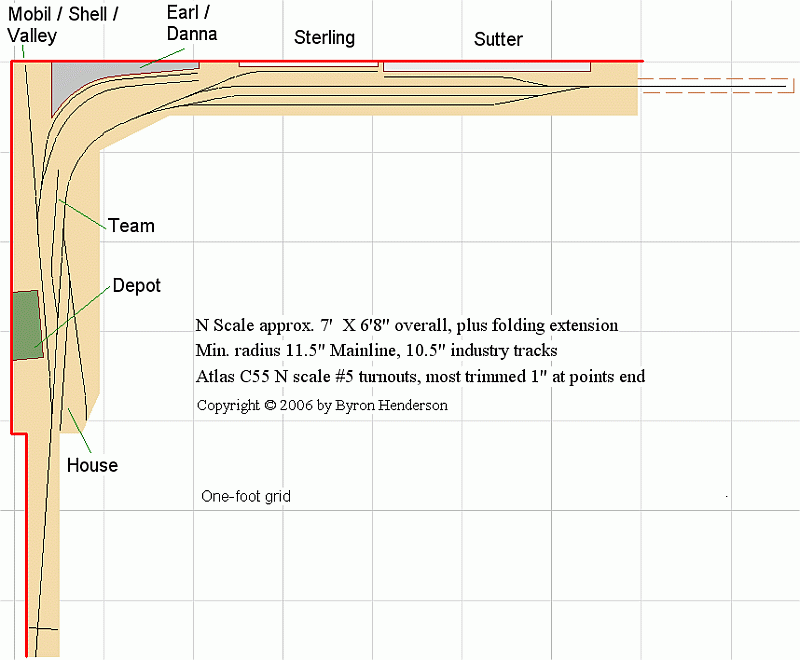 Click image for an Adobe Acrobat (.pdf) file of the SN map
The resulting N scale shelf layout design is built around a small yard with a short lift-out tail track to allow for run-around moves and a switch lead for Sutter. The curved industry tracks at the Earl/Danna facility are not prototypical, but allow for a few more car spots. The owner plans to start his op session with the inbound train staged on the long lead on the lower left of the drawing, but one could also begin with inbound cars on one of the yard tracks as if set-out by another train.
The owner has made a couple of changes to the design to take a little more space in the room in the interest of adding more operating potential, but construction is well under way, as seen in the photos below. The design is based on Atlas' fine new C55 N scale track components; although we did plan to trim nearly every turnout at the points end, since Atlas builds them overly long to match up with sectional track.
The layout owner has moved to a new place and is working on a new layout now. But this little switcher goes to show you that even in a very tight space with lots of constraints, some creativity leads to a pretty interesting layout that captures the flavor of its prototype inspiration. Please contact me if you'd like to talk about doing the same for you.